Brocade - The Story of a Dharma Seamstress
They were at an art gallery in San Francisco. He was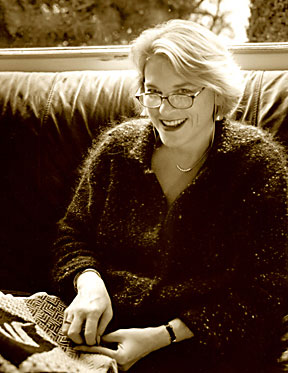 wearing the sleeveless high-collared silk monastic shirt she had made for him - yellow charmeuse with a pattern of little horses. She was kneeling and he had hold of her hair and was knocking on her head and telling her something important.
"Learn to make all the monastic garments," said the translator, "and when I come back I'll teach you how to make the Gampopa hat."
It was 1980 and the sixteenth Karmapa's third visit to North America. Deborah Luscomb, travelling with him, was in charge of all textiles involved in setting up his households and the Black Crown ceremonies - gold satin drapes and wall coverings, brocade valences, bedspreads and chair upholsteries, thrones, banners, shrines, the brocade box for the Black Crown. When the Vidyadhara Chogyam Trungpa gave her the assignment, he also gave her to understand that it was not a one-shot deal, but that she was to make Vajradhatu textile production a priority for the rest of her life.
Twenty-one years later, she is still carrying out her assignment. If you have a sadhana cover, or a puja table cloth, or chevrons for your shrine, or a pin roll for your Buddhist or Shambhala pins, chances are you have evidence of her dedication, as she has been in continuous production ever since. Hence her Shambhala name, Brocade, and the name of her business, simply Brocades.
If you read the Shambhala Sun, you may well have seen Ane Pema Chodron on the January 1999 cover, wearing a yellow and red brocade vest made by Brocade.
Also in 1999, on the cover of Natural Horse magazine, the Sakyong Mipham Rinpoche appears shooting a bow at full gallop on a horse with a saddle blanket designed by the Vidyadhara and crafted by Ms. Luscomb - red wool melton bound in gold wire braid. The blanket she made for the Druk Sakyong, of white brocade similarly bound, can be seen in the popular photo of him galloping on his white Lippizaner, Drala through the 1980 Magyal Pomra Encampment ground at Rocky Mountain Dharma Center.
Another product of her history is the Namchen banner, commonly known as the Dream Flag - the Karmapa had Ms. Luscomb called in, presented her with three drawings in yellow and blue colored pencil, and told her to make a 'big flag' of it, saying that 'wherever this flag flies, Dharma will flourish'. She drew the design on graph paper to meet his requirements of its being exactly reversible, then at the Boulder Public Library she projected the design on the wall to make the pattern. She completed the sewing of the flag and raised it for the first time herself on Midsummer's Day, 1980, at Marpa House.
A little more than a year later, the Karmapa's body was shipped from Chicago to Rumtek - wrapped in the same flag.
Deborah Fay Luscomb was four years old when her maternal grandmother, Edith Powers Fay of Newington, Connecticut, taught her to sew. She was sewing for a living twenty years later in 1974 when she met Chogyam Trungpa Rinpoche at Naropa Institute. In the ensuing year she made zafus and zabutons; went to Taos at the invitation of the Lama Foundation to set up a cottage industry for the production of chubas and drawstring-style meditation pants; attended the Urasenke School of Tea in New York City; learned needlepoint from her first tea teacher, Millie Johnstone; was asked by Jack Kornfield and Joseph Goldstein to be part of the founding staff of the Insight Meditation Center in Barre, Massachusetts; returned instead to Boulder, where she took refuge with Trungpa Rinpoche.
By 1979, the year of her Seminary, she had become the Vidyadhara's personal seamstress, making ceremonial robes, chubas and even silk pajamas for him. She would leave his immediate service in 1983, when she moved to Charlottesville, Virginia, for the duration of her husband's law school, but would return to it in a most poignant way in 1987 when, after a tearful reunion with Judith Gostick and Susan Drommond, also seamstresses to the Vidyadhara, she helped in the making of the brocade cape in which the Vidyadhara was cremated.
Today, in 2001, along with running her own business, Ms. Luscomb continues to sew for Sakyong Mipham Rinpoche. A Canadian citizen and resident of Halifax, she has three sons, Alec (18), Robert (17) and Thomas (12) and has seen a variety of other service in addition to dharma sewing and motherhood. From 1982 until 1996 she assisted over 100 families with childbirth; from 1992 until 2000 she was involved in the founding and development of the Shambhala School. She enjoys practice, needlepoint, Mahjongg, coastal sailing, and Shambhala Training.
She is waiting, she says, for the first visit of the seventeenth Karmapa to North America - so he can fulfill the promise of the sixteenth Karmapa and teach her how to make the Gampopa hat.
In 2016 - fifteen years later - Alec, Robert and Thomas have grown up and are living in Halifax, Boulder and Vancouver, respectively. Alec is married to Michelle with whom he has two beautiful daughters.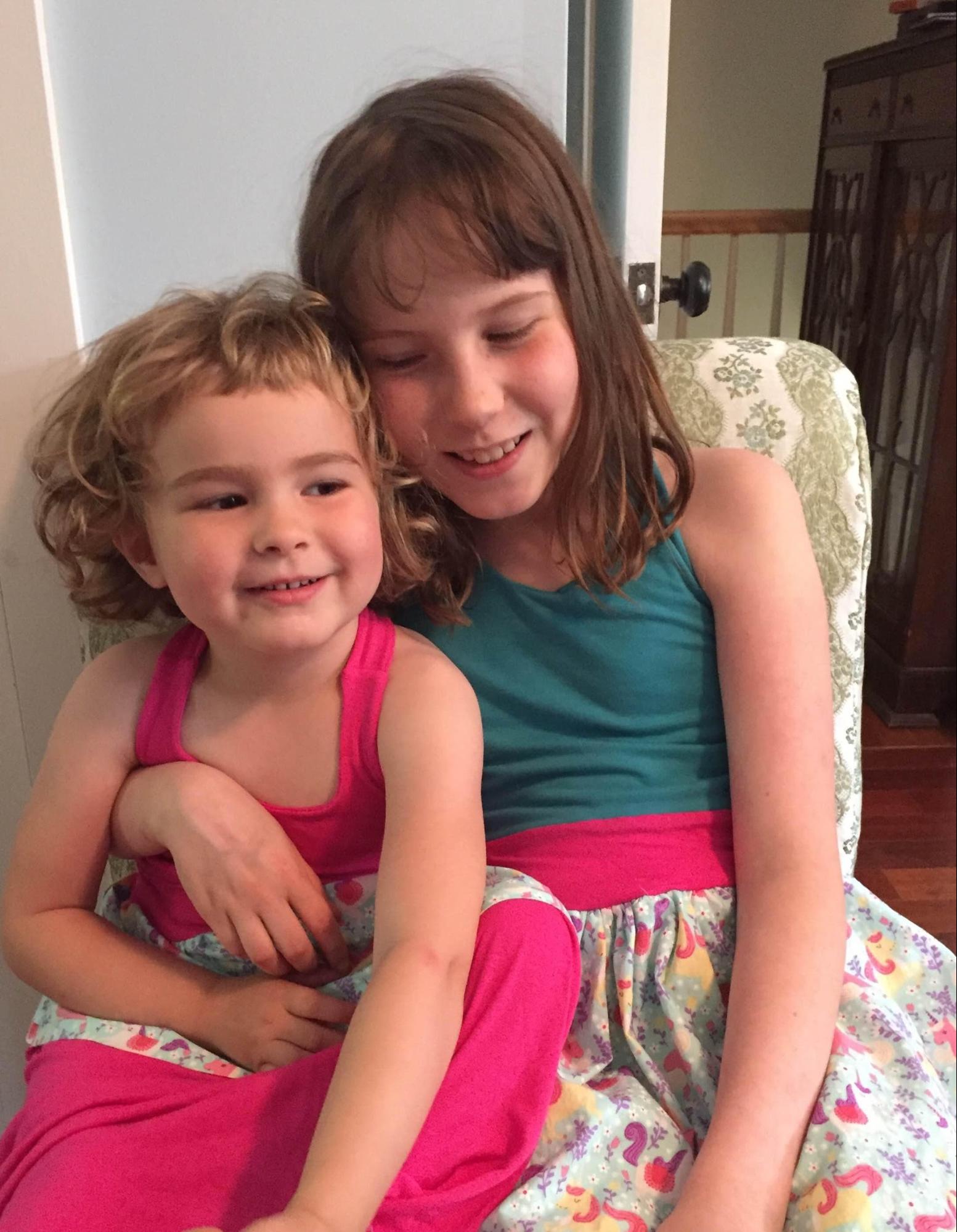 Ruby and Maisy
As a grandmother, Deborah is still framing thangkas, doing throne and shrine installations, and making practice and retreat materials. She is also working as a death awareness educator as well as a Shambhala funeral director. She introduced Death Cafe, a monthly gathering at which people talk about the D word, and Death Matters, guided meetings to create personal and funeral directives, to Nova Scotia.
She has spent some weeks with the 17th Karmapa. He has yet to teach her how to make a Gampopa hat.
- Jim Lindsey
with photo by Marvin Moore